The Kansas City T-Bones
have posted an article about the new "all sod infield"
the team will be playing on next season. Not so much newsworthy for Wizards fans. What is newsworthy, though, is the picture included in the article.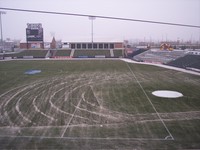 You can see how the field will be laid out on the infield part of the field. Over on the far right of the picture, you can see the end of the stadium seats, what will probably be the best midfield seats for the games. Notice also how the pitchers mound will NOT be part of the playing surface, although it will make for an interesting obstacle to avoid during the run of play. Also, I don't know if it will remain for the season (unlikely), but that is the Wizards logo painted in the midfield circle.
I will hopefully have more pictures on Thursday, after I've gone over to Community America to choose my seat for the up coming season. At least as long as the field is not still covered in snow/sleet as I'm told it was today.